Finding Inspiration – Great Neighborhood Commercial

What makes a great neighborhood center?

What features do you think make the best neighborhood restaurant and retail spaces? Is it outdoor gathering spaces, play spaces for the kids, walkability, a funky character? What place inspires you?

Tell us about it – and show us too by uploading a photo of a great place to shop, eat, or simply hang out!

0

1

Days Remaining

Photos Added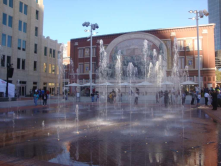 Walk ability and character. Something to DO there. Culture. Arts. Activities.